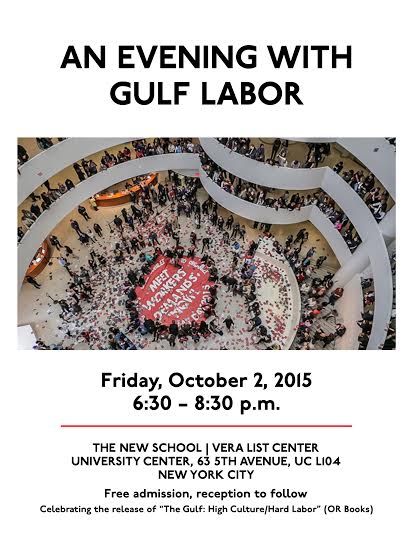 Join us on Friday, October 2nd, at the Vera List Center in New York City for the launch of our new book, "The Gulf: High Culture/Hard Labor."
This event features reports by Gulf Labor members Nitasha Dhillon, Mariam Ghani, Amin Husain, Andrew Ross and Gregory Sholette and focuses on the repercussions in the art world of oppressive labor policies in art institutions. On the occasion of the release of their book, The Gulf: High Culture/Hard Labor, they expand on the most recent research and its implication for the work of artists and cultural producers everywhere. 

In 2009, Human Rights Watch published a report, detailing alarming labor conditions and human rights violations on Saadiyat Island in Abu Dhabi where a new Guggenheim Museum was to be built, one of several international cultural institutions. In response, several dozen artists, curators and cultural producers launched the Gulf Labor Artist Coalition with the intention of protect the rights of the migrant workers during the construction of museums on Saadiyat Island. Among various initiatives – public programs, exhibitions such as participation in this year's Venice Biennale, the artist platform 52 Weeks, and research trips to the Emirates but also the countries where some of the workers come from – most recently, Gulf Labor's protest has taken the form of a publication, The Gulf: High Culture/Hard Labor.
Andrew Ross is Professor of Social and Cultural Analysis at New York University, and a social activist. A contributor to The Nation, the Guardian, New York Times, Al Jazeera, and Artforum, he is the author of many books, including Creditocracy and the Case for Debt Refusal, and the editor (for Gulf Labor) of The Gulf: High Culture/Hard Labor (OR Books, 2015).
Mariam Ghani is an artist and writer based in Brooklyn. Her work has been exhibited internationally and her writing has been published online by Creative Time Reports, Foreign Policy, Ibraaz, the New York Review of Books, and Triple Canopy, and in print by Manifesta Journal, Pavilion, the Radical History Review, and the Sarai Reader. She teaches at Queens College and is part of the Gulf Labor Working Group.
Nitasha Dhillon and Amin Husain are MTL (mtlcollective.org), a collaboration that joins research, aesthetics, and activism in its practice. Dhillon (b. 1985, India) and Husain (b. 1975, Palestine/USA) attended the Whitney Independent Study Program in New York and the School of International Center of Photography. They were deeply involved in Occupy Wall Street and continue to edit and publish Tidal—Occupy Theory (www.tidalmag.org), a strategic platform that weaves together the voices of on-the-ground organizers with those of theorists to explore the possibilities created by the rupture of Occupy and its aftermath. Most recently, they helped found the Global Ultra Luxury Faction (G.U.L.F.).
Gregory Sholette is a New York-based artist, writer, and cultural activist whose recent art projects include "Our Barricades" at Station Independent Gallery and "Imaginary Archive" at the ICA, University of Pennsylvania, Philadelphia, and at Las Kurbas Center, Kyiv, Ukraine. His recent publications include It's the Political Economy, Stupid, co-edited with Oliver Ressler (Pluto Press, 2013), and Dark Matter: Art and Politics in an Age of Enterprise Culture (Pluto Press, 2011). He was a founding member of the artists' collectives Political Art Documentation/Distribution (PAD/D: 1980–1988) and REPOhistory (1989–2000). He teaches at Queens College, CUNY and Home Work Space Beirut, Lebanon.
This event is sponsored by OR Books and the Vera List Center for Art and Politics, one of the original organizers of WBYA — Who Builds Your Architecture?