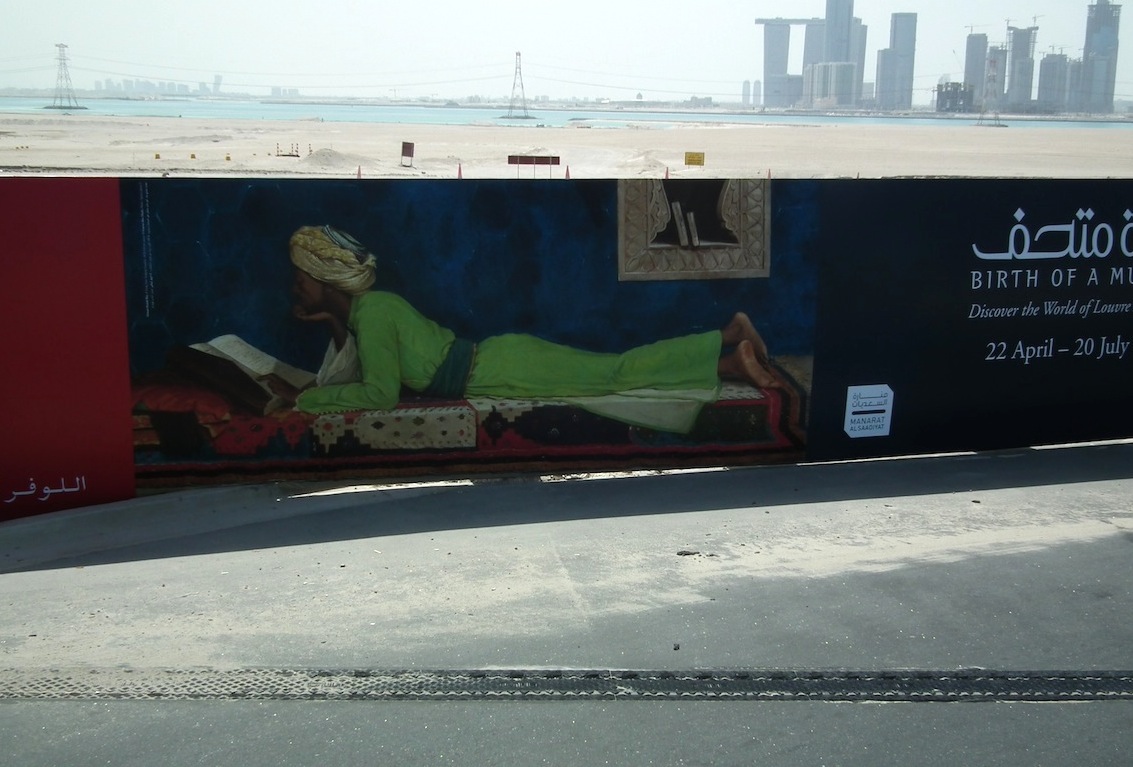 The Guardian has a long piece today on the Louvre Abu Dhabi, and Saadiyat Island's developments.
The large financial deals are recapped in the article, as below:
"In 2007, Abu Dhabi signed a deal with French officials worth over £663m to buy the use of the Louvre's name, to construct the Jean Nouvel-designed building that will house the art, and to facilitate special exhibitions and cultural loans from French institutions. The museum is scheduled to open next year. The Louvre branding itself is worth over half the value of the total: £344m for a period of 30 years.
A similarly gargantuan sum was promised to the Guggenheim, which will open its outpost in Abu Dhabi in 2017 or later (the project has been much delayed). Curators have been granted a £400m budget for new acquisitions, while the museum designed by Frank Gehry – a medieval jumble of cones and impossible angles – will cost £530m to build."
Note that these figures are in UK Pounds.
Our financial proposals to the Guggenheim include a better and living wage for workers ( 25 percent above the 250 USD per month average) and a one time debt relief fund of USD 2,000 per worker, which assuming 7,500 workers is 15 million USD.  That's just about 1 percent of the combined building and acquisitions budget.
These demands are detailed below (from a letter to the Guggenheim dated March 6, 2015):
Gulf Labor proposes that:
1. Guggenheim Abu Dhabi create a Debt Settlement Fund (DSF) to compensate every worker who is building its museum on Saadiyat Island an additional $2,000 on top of wages earned (or, assuming an aggregate workforce of 7500—as in the case of the Louvre — around $15 million in additional total payments to workers). The DSF will address one of the most intractable labor problems in the UAE: recruitment debt. Independent investigators have established that the average recruitment debt burden per worker is $2000. (1)
2. Guggenheim Abu Dhabi ensures a fair wage for all workers employed on its construction site. Recent scholarly analysis of the UAE migrant labor market has demonstrated that wages are depressed by at least 25% relative to previous levels of compensation. (2) Moreover, our own research has found great disparities among workers, based on the place of origin, caste and community and terms of contract, even for the same work. We will work with the museum to establish a living wage for all workers on the site. This living wage will compensate both for the 25% wage depression and for the disparities cited above.
3. Guggenheim Abu Dhabi will work to guarantee workers have the freedom to associateand the right to collectively address grievances. This will prevent the growing cycle of intimidation and violence, imprisonment and deportation that has taken place, especially since 2013.